KNEEFLEX™ - KNEE SUPPORT PADS
&nbsp 95%
of our customers enjoyed their order.
932 orders
.
WHY DO I NEED THIS?
The new KNEE SUPPORT PADS - KNEEFLEX™ supports your thighs and calves reducing the pressure on your knees. It supports your two legs firmly offering you the ability to recover from surgery faster, Ease arthritis and joint pain and even carry any heavy objects easier than before. Great for people who have bad knees, who have arthritis, who have had any sports injuries, and workers who are crouching all day.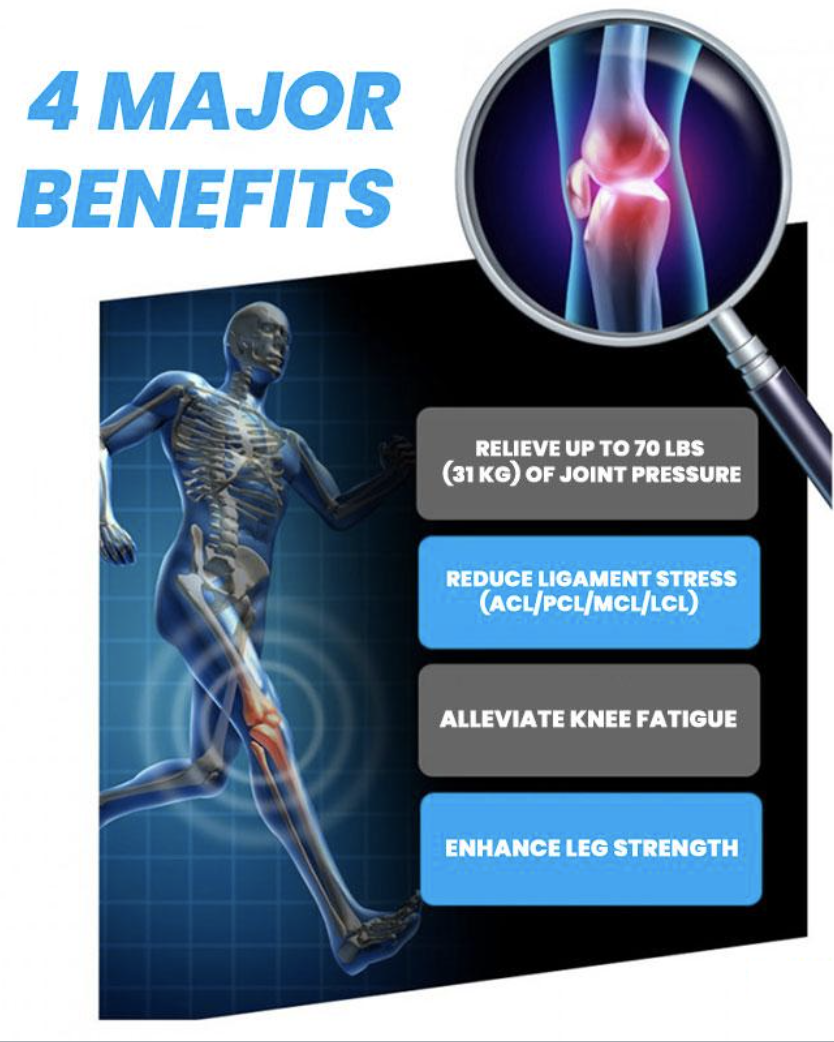 BENEFITS OF THE KNEE SUPPORT PADS - KNEEFLEX™
✔️ START HEALING AND SPEED UP RECOVERY- Makes you feel light, allowing you to lift each knee easily as you go along with your activities. Compression knee sleeve all dimensional protection to give you maximum support for any areas that need more attention, relieves pain from arthritis, torn meniscus tear, tendonitis osteoarthritis, chondromalacia, prevent hyperextension etc; Knee wraps provide support for the Knee Cap with Compression for Pain Relief Help and Injury Recovery.
✔️ STRONG LIFTING POWER- The Power Knee Stabilizer Pads can withstand a weight of about 20 kg each. It is effective to lighten about 40kg from a person's own weight. It is a breakthrough product that allows you to lift your knee easily when you bend or squat both legs.
✔️ VERSATILE- Great for various sports such as mountain climbing, bicycle, golf, badminton, work out, and more.
✔️ WORKING BUDDY- These powerful knee pads support thighs and calves, so they can be used in any workplace.
✔️ HIGH-QUALITY- Durable, lightweight aluminium alloy body with strong elasticity of specially manufactured spring. Up to 40KG of EXTRA LIFTING POWER, easy Velcro-type length control and can be worn on the inside or outside your clothes.
✔️ BREATHABLE MESH- It's comfortable, whether worn directly wrapped around your bare knees or over your pants
BENEFITS OF THE KNEE SUPPORT PADS - KNEEFLEX™
Helps to improve kneecap tracking
Provides support for the knee joint when bending
Provides support when getting up 
Helps to reduce stresses on the ligaments
Open knee enables airflow for additional comfort
Reduces your chances of suffering a knee strain injury
FEATURES OF THE KNEEFLEX™:
maximum protection and support
Made with the highest grade lightweight aluminium alloy and diving grade fabric; breathable and waterproof
THIS PRODUCT IS NOT AVAILABLE IN STORES.
Great for running
I live in London so most of my running is in the park on concrete. After a while I started to feel pain in my knee joints and I purchased this product. I'm super happy with this and my friends already asked me to purchase for them. The delivery was fast and the packaging looks nice. Thank you Torocart for this offer!
Produit incroyable
Ce produit m'a beaucoup aidé lorsque j'ai commencé à avoir des douleurs au genou après l'exercice. Je recommande fortement le produit et le prix est vraiment bon!
My dad told me to give a 5 stars review on this product
I bought this for my father as his knee pain got worst and worst. He told me I'm now his favourite daughter and my sister got the second place. Great investment!
I purchased the product after my physiotherapist recommended it. I can't be happier with this and the quality is amazing!